WHY CHOOSE COATED COLLOIDAL SILVER?
Coated Silver® is a brand created by Noble Elements LLC, a company that combines cutting-edge technology, scientific expertise, and social responsibility to make the world healthier. Coated Silver® uses a patented process to produce true colloidal silver with silver nanoparticles coated with a natural porous polysaccharide, making them safe, stable, and effective.
The founders of the company are Dr. Calin V Pop and Nodari Rizun collaborated with Professor Dan V. Goia Ph.D, to bring Coated Silver to consumers. Coated Silver is the result of years of research and innovation by Prof. Dan Goia and his team at Clarkson University, who have patented (US patent 7,842,274) their technology and licensed it to Noble Elements LLC exclusively. Dr. Goia's patented process produces silver nanoparticles with a uniform size of 10 nanometers or about 1/10,000th of human hair!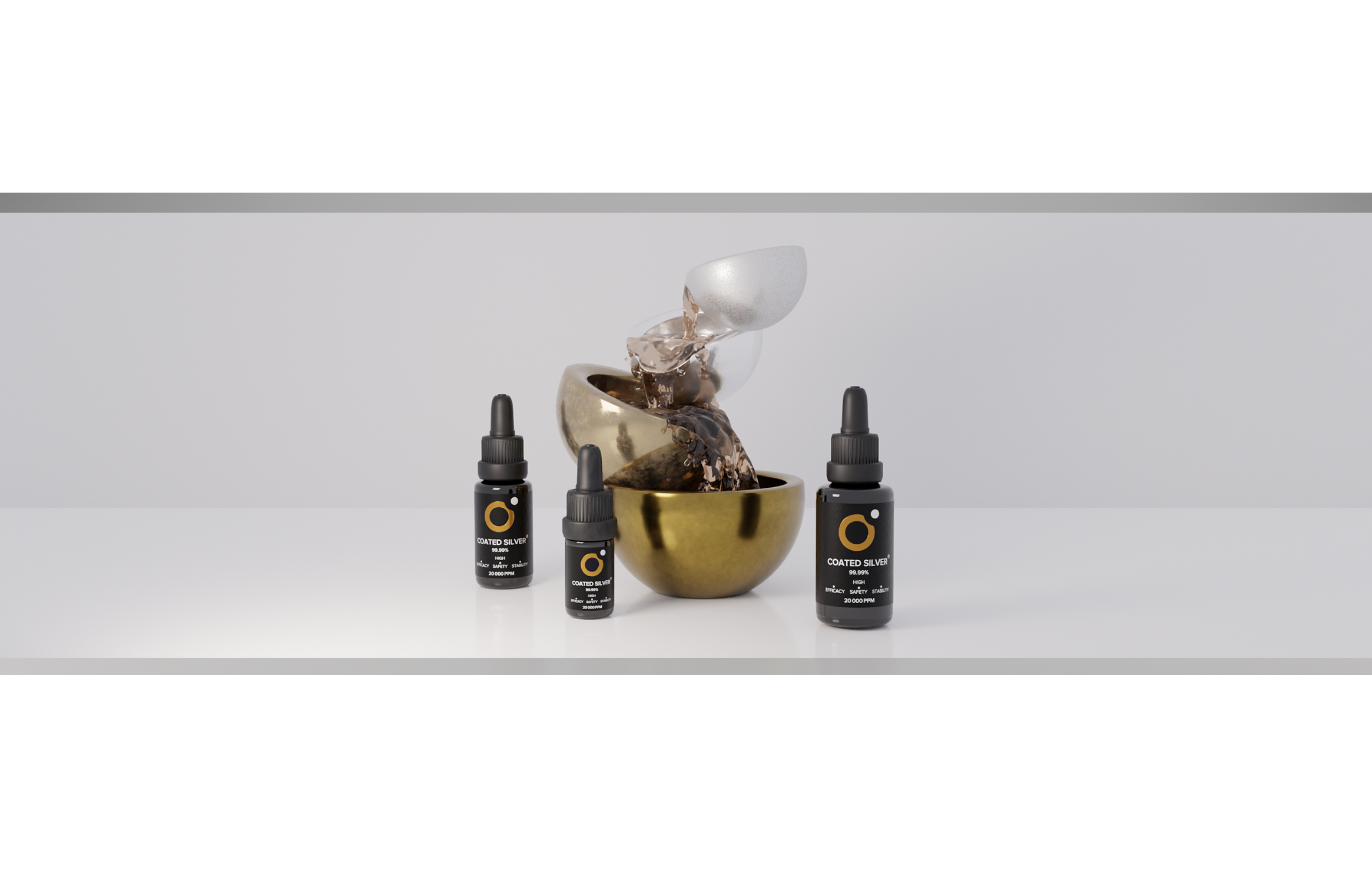 When you value: Efficacy, Safety, Stability
There's only one name to trust.
Just one drop of Coated Silver is proof.
Coated Silver Benefits & Features
Coated Silver beats 15 other brands of silver in terms of quality, efficacy, and safety!
Coated Silver enhances immunity and support's the body's natural protection from infections.
The smallest and most consistent size of nanoparticles for the best efficacy.
Coated silver demonstrates no interaction with biological structures, enzymes, proteins, and metabolism.
The coating helps prevent clumping. Clumping is a reaction common to poorly prepared colloidal silver or ionic silver where silver builds up in tissues and extreme cases lead to argyria.
20,000PPM of coated silver concentrate is at least 10 times more than most colloidal and ionic silver products. Only one drop is needed for a daily dose of immune protection from Coated Silver.
Can be diluted to any PPM desired.
Remains effective when added to liquids like juices, smoothies, teas and soups.
Available in three bottle sizes: 5ml, 15ml, and 30ml. At least 83 to 400 doses (5ml) in one bottle depending on usage.
Incredible value per dose/drop.
Coated Silver® showed efficacy in a study by USDTRA (United States Defense Threat Reduction Agency) of USDOD (United States Department of Defence).
Coated Silver is engineered and manufactured in USA using state- of the art nanotechnology equipment.
Coated Silver does not require special storage. Do not freeze, do not keep in direct sunlight, and make sure to close the lid well so that the moisture will not evaporate.
For light and extra immune support, you can take Coated Silver® indefinitely. For challenging situations of immune support, you can take Coated Silver® for 7 to 14 days or as long as needed. If you require heavy immune support, you can take Coated Silver® for 7 to 15 days and switch to challenging situations or extra immune support.
Our silver has no contraindications for taking during pregnancy or lactation. Nevertheless, if you are pregnant or lactating, we recommend taking any supplements only with the approval of a licensed physician.
Yes, you can give Coated Silver to children and pets. Use half the adult dose for children and lighter pets. The ingestion period depends on the child's or your pet's immune health requirement. The only exception to the rule is large animals like horses, cows, or bulls. They require 5 to 7 times the human adult dose.
Yes, super easy. All you need to do is dilute the amount of silver in pure water and drink it.
For an effective throat rinse: Add 3 drops of Coated Silver® to 1-2 cups of pure water. Gargle the diluted silver once or twice daily. You can spit the gargled solution out.
Our vials and pipettes are made out of high-quality biophotonic glass. Even though they are durable, we do not recommend dropping them as eventually, any glass breaks. If you need shatter-resistant packaging, you can dilute any amount of silver you need in a plastic container.